EXTREME STEEL TOUR
Pantera, Slayer, Static X, Skrape, Morbid Angel
July 17 - Phoenix, Arizona
---
Pantera and Slayer, together. The tour, that in the words of Phil Anselmo himself, "took ten years to happen", had finally arrived. Two of the greatest metal bands ever to exist, sharing the same stage in what would undoubtedly be one of the most amazing metal shows of all-time. I was fortunate enough to catch the tour at its stop in Phoenix, Arizona, and there is no doubt in my mind that few metal shows will be able to top the intensity of this one.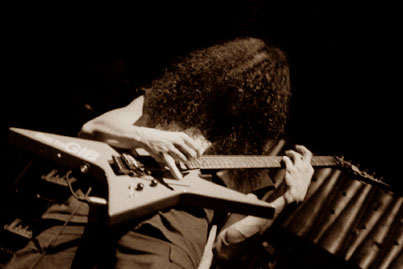 The doors to the arena opened at 5:00, sharp. The crowd was already starting to build up to what would later become nearly 10,000 rabid metalheads. The first band to perform was Morbid Angel. Their set was amazing, to say the least. With no attempts at being commercially viable towards the audience, they pounded through a short, but brutal set of mostly old songs, and a couple of new ones. Jared Anderson, of Hate Eternal, had replaced Steve Tucker on this tour, and seemed very much at place within the band. His vocals were powerful, and he had no trouble pumping up the crowd between songs. My only complaint is that it would have been better if they were allowed to play a longer set, but, I'm just glad they were even on the tour. Surprisingly, they received an incredible response from the crowd.

Next up was Skrape. After Morbid Angel's set, I found myself both hungry and thirsty, so I ended up walking around the outer areas of the arena. I honestly wasn't really interested in hearing this band anyways, so my missing their set was no loss. What I could hear of their music from the outer area seemed like typical "nu-metal", and was far from interesting. Fortunately, they only played for a half hour, so their set didn't last long at all. After Skrape had finished, I decided to go back into the arena to await Static-X.

I am not a Static-X fan, and probably never will be, but, in all honesty, they put on a pretty good show. While I didn't really enjoy the music, it was moderately heavy, and the crowd had no trouble going crazy for them. Their light show was amazing, and their performance was very energetic, which surprised me. Overall, they were far from bad. I think they have potential, but, how they use that potential, only time will tell.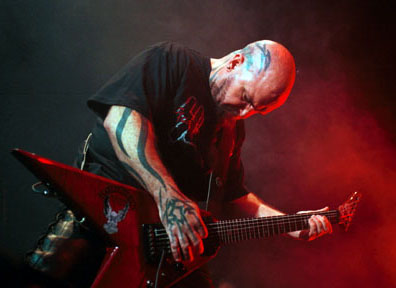 After Static -X, I prepared myself for the mighty metal gods, Slayer! They are just one of those bands that fails to disappoint when it comes to live shows. This night was no exception. While they only had forty-five minutes to play, they sped right through a set containing classics like Raining Blood, Dead Skin Mask, and South of Heaven, and newer songs like Bloodline, and Stain of Mind. They even threw in a song from their upcoming album, entitled Disciple. If this song is a good indication of the sound of their new one, it looks like Slayer are going to be better than they have been in quite some time! The energy of the entire crowd was incredible, but you can expect nothing less when it comes to a Slayer show! An amazing performance, overall!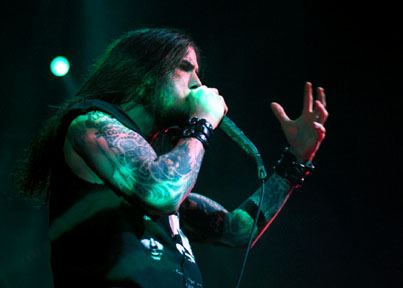 Finally, nearly five hours after the doors had opened, the headliner of this awesome tour took the stage! An intro was played through the P.A., while the giant "Reinventing The Steel" backdrop was raised up, accompanied by the deafening screams of everyone in attendance. After the intro, the Cowboys From Hell hit the stage, and immediately blasted into Hellbound! Contrary to what people have been saying about their performances, and all of the rumors going around about Phil's vocals being poor, Pantera put on one of the greatest shows I have ever seen! The energy level was incredible! They played a nice selection of songs from all of their albums, including songs that they haven't played in a very long time (namely, Strength Beyond Strength, and War Nerve), and also four songs from Reinventing The Steel! Phil was no less talkative than he usually is during the time between songs. He very openly commented on how impressed he was with the turnout, and the intensity of the crowd. We had no trouble proving to him that metal is very much alive in Arizona, and he was all smiles because of it. Other interesting parts of the show included Kerry King's appearances on both Goddamn Electric, and Fucking Hostile (which drew a great response from the crowd), and filming that took place during I'll Cast A Shadow. After a very long set of their best
songs, they finished off with Primal Concrete Sledge and Cowboys From Hell, but came back shortly after to do an encore of Walk. It's amazing that even after so many years of touring, Pantera can still put on one of the best damn live shows in metal.

It looks like they will be taking a long break after this tour is over, but, I can guarantee that when they return, the intensity will still be there, even stronger than ever. Much thanks to Pantera for putting together THE greatest tour of 2001!
Morbid Angel:
Slayer:
Pantera:
Immortal Rites
Lord Of All Fevers And Plague
Rapture
Kawazu/Summoning Redemption
World Of Shit
God Of The Forsaken
Chapel Of Ghouls
Raining Blood
Chemical Warfare
Disciple
Stain Of Mind
Bloodline
War Ensemble
Dead Skin Mask
Seasons In The Abyss
South Of Heaven
Angel Of Death
Hellbound
Five Minutes Alone
Slaughtered
War Nerve
Mouth For War
Goddamn Electric
Becoming
Revolution Is My Name
Strength Beyond Strength
I'll Cast A Shadow/25 Years
Fucking Hostile
This Love
Primal Concrete Sledge
Cowboys From Hell
Walk (bis)
Story : Craig Bennet
pics : Jason Nelson
RECOMENDAR SITIO

Los mejores productos para tu Pc
ROLDÁN Y EL
METALERO

Episodio # 5
22 - 5- 01

Comprate una playstation al mejor precio

ULTIMAS ADICIONES
WITCHERY
NATAS EN VIVO
LES CLAYPOOL
STONER ROCK
ROCK DE GARAGE
OBUS
SATANISMO
CUERO
HAMMERFALL
HAMMERFALL BIO

PAUL DI ANNO

CAMEMBERT

ROSS ROBINSON

BLACK METAL

BLIND GUARDIAN

RESULTADOS ENCUESTA 2000

ROCK IN RIO

SEPULTURA

O'CONNOR

CRYPSTOPSY

QOTSA en Bs As

Iron Maiden BS AS

Informe New Metal

El Staff de Jedbangers elige los mejores discos del 2000

NOCTURNAL RITES


Registrate y buscá los instrumentos musicales al mejor precio